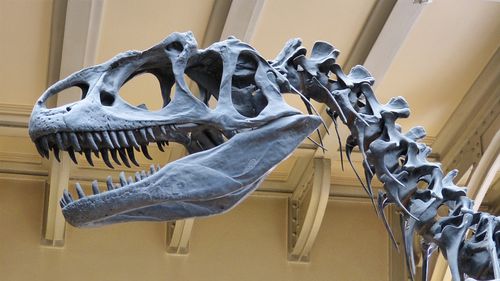 Dinosaurs disappeared from the Earth approximately 65 million years ago. There are many theories about what happened to them. So far, no one can prove why these powerful creatures suddenly disappeared. It may remain a mystery forever.
Some scientists believe that a huge asteroid from space hit the Earth. The impact and the heat from the asteroid could have killed the dinosaurs. Others believe that the asteroid gave off too much gas in the Earth's atmosphere. This gas may have blocked rays from the sun. The cooler temperatures could have started an ice age. The low temperatures could have been too cold for the dinosaurs.
Another theory is that a gradual change in climate occurred for thousands of years. Scientists believe that winters became too cold. Summers became too hot for the dinosaurs to survive. Without fur or feathers, dinosaurs could not keep themselves warm in winter. They would have also had a hard time keeping cool in summer.
The truth is, we might not ever know what happened. It is a mystery.
1.
When did dinosaurs disappear?

 
a few thousand years ago
about 15 billion years ago
less than 1 million years ago
about 65 million years ago
2.
Because no one is sure why dinosaurs went extinct,

 
scientists all believe an asteroid killed them.
the dinosaurs may all still be alive today.
there is no chance that humans could ever go extinct.
people have come up with theories to try to explain it.
3.
Based on the passage, it can be understood that

 
there is not enough evidence to prove the extinction theories.
scientists will definitely figure out the cause of dinosaur extinction at some point.
most scientists believe the ice age theory of extinction.
there are many hundreds of different extinction theories.
4.
Read the following sentence: "Another theory is that a gradual change in climate occurred for thousands of years."
The word 
gradual
 means
unimportant
over a long period of time
accidental
related to plants
5.
The main idea of this passage is

 
no one knows how the dinosaurs became extinct.
an asteroid may have hit the Earth millions of years ago.
dinosaurs could not adapt to changing temperatures.
scientists are trying hard to find out why dinosaurs became extinct.
6.
Explain one of the theories in the passage for what caused the extinction of dinosaurs.

 
7.
Based on the passage, explain what might have happened to dinosaurs if the temperatures had never changed.

 
8.
The question below is an incomplete sentence. Choose the answer that best completes the sentence.
It became too cold on Earth, ________ dinosaurs became extinct.